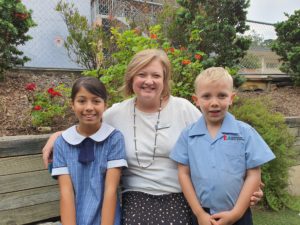 St Bernard's is an established community of faith. We value parent and school partnerships with the child very much at the centre of everything we do.
At St Bernard's we value student wellbeing and academic achievement and work hard to create a positive, supportive learning environment, which encourages learners to develop a growth mindset. We are a school where perseverance is valued and admired.
We are clearly focussed on quality teaching and learning, our classrooms are regularly updated with technology and have been refurbished with smart flexible furniture to facilitate learning for the 21st Century. In this way, we aim to build cooperation and problem solving skills in all of our learners.
At St Bernard's we cater for students of all abilities and run additional programs to cater for their needs. For instance, Public Speaking, Japanese, Band and representative sports. Student Wellbeing is nurtured with a whole school approach to behaviour with PBL (Positive Behaviours for Learning) and student wellbeing with the Rock and Water program, a psychological and social skills program.
We count ourselves lucky to be at the heart of a close community, who have supported the development of our extensive grounds. We have an Oval, which is excellent for team sports, play equipment and a newly designed and purpose-built outdoor classroom. A dry creek bed, sand pit and mud kitchens also provide a wonderful stimulus for imaginative and creative play, in which children can naturally develop essential life skills.
Download our Annual School Report
Download our Standard Collection Notice