Annual Report 2021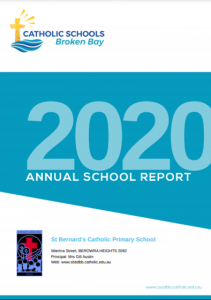 As a newly appointed principal to St Bernard's in 2020, I have been honoured and humbled by the capacity of this community, teachers, students and parents to work together in challenging times, with respect for each other at the core of what they do. This is a vibrant community committed to enhancing the lives of each and every child.
The purpose of this report is to reflect upon a difficult year in which world events shaped our capacity to persevere, maintain standards and continue to progress as a learning community. Our students and teachers were well supported through a period of Home Based Learning, with our emphasis on student and family wellbeing. Our well resourced ICLT department ensured teachers were well placed to modify programs, and our students were able to adjust to a dynamic learning environment during a period of Home Based Learning, using a range of devices.
We are a Catholic school offering an inclusive education for children of all faiths. Our teachers are committed to our vision of Catholic mission and to striving for high standards and student growth in all aspects of the curriculum.
Annual Report 2020
Annual Report 2019