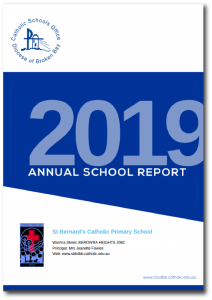 The School's core values of faith, hope, justice, love and joy underpin our policies, procedures and practices. Being consciously Catholic in all aspects of school life engages our school community in scripture, discipleship and prayer in a Christ-centred educational environment.
Our school's motto 'Honesty' is the foundation on which our mission is built.
As a school community we embrace high standards of quality education that support students in becoming independent and creative learners, equipped with the social and emotional capacities necessary for wellbeing and success. Quality learning experiences are embedded within contemporary educational pedagogy and learning environments.
Leveraging digital, working in partnership, flexible learning spaces and student focused learning are key priorities of Saint Bernard's Catholic Primary School.
In 2019 our school continues to enrich the lives of our students and community. The dedication of staff, the caliber of students and the involvement of many parents ensures that the School is a blessed community, striving to embrace the contemporary challenges of Catholic education in our increasingly secular society.
Annual Report 2019