Background
St Bernard's School is part of the Diocesan School system of the Diocese of Broken Bay.
A small co-educational school with approximately 268 children enrolled from Kindergarten to Year 6, St Bernard's is nestled in a beautiful bushland setting in Berowra Heights, NSW, Australia.
Mission
It is the MISSION of all members of this community, inspired by the example of Christ, to work together to provide a learning environment which: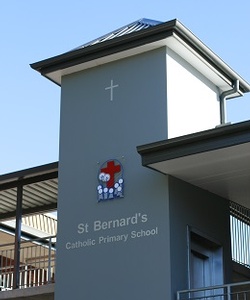 models collaboration, trust and integrity;
appreciates and respects the dignity of each person;
recognises and nurtures the importance of the partnership between parents, teachers and parish priest.
Aims
To achieve this mission our aims are:
AIM 1: RELIGIOUS
To foster knowledge, understanding, reverence and commitment to the Catholic faith in a way that reflects the presence of an all-loving God.
AIM 2: COMMUNITY
To further develop the positive interaction and partnership of students, parents, teachers, parish priest and wider community.
AIM 3: TEACHING AND LEARNING
To develop the potential of each child and to nurture a love of learning, by providing a quality education within a safe and challenging environment.
AIM 4: PASTORAL
To care for the children and adults in our community by creating a climate which respects individuals and responds to their needs.
AIM 5: ORGANISATION
To maintain and develop a collaborative system of decision making and planning, characterised by reflection and open communication.
AIM 6: FACILITIES AND RESOURCES
To provide a safe, well-maintained and well-resourced environment