It's our community that makes us different.
Come along to our Open Morning/Evening and see how we're inspiring our students to love learning and be the very best they can be.
Enrolling now for 2022!
At St Bernard's, our community is what makes us different, it is an essential part of our school, with teachers, families and students caring for and supporting each other throughout their time here. The wellbeing of all children in our care is pivotal to everything we do and plays a vital part in their learning success. We offer a dynamic learning environment featuring excellent facilities, including a Science and Technology designated classroom, combined with extensive greenspace and new creative play areas. St Bernard's is a priority feeder school for St Leo's Catholic College at Waitara.
Open Morning – Thursday 11th March, 9am – 11am, Thursday 17th June, 9am – 11am
Open Evening – Thursday 17th June 6pm – 7pm,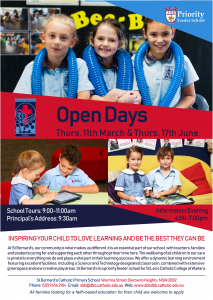 ENROLMENT INFORMATION