St Bernard's is proud to be a Priority Feeder School for St Leo's College Wahroonga.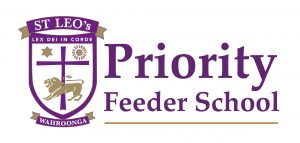 As a student at a Priority Feeder school to St Leo's Catholic College your child will receive automatic secondary enrolment there without any extra application fees nor enrolment forms.
Our students will participate in additional tailored transition activities to assist them with moving into secondary college and further opportunities for joint curriculum-based activities such as science, drama, music and dance through the St Leo's Primary Partner Program.
At St Bernard's we value student wellbeing and academic achievement and work hard to create a positive, supportive learning environment, which encourages learners to develop a growth mindset. We are a school where perseverance is valued and admired.
We pride ourselves on offering:
Curriculum links and student mentoring program with St Leo's College, Wahroonga
Spacious grounds including an oval and imaginative play spaces
Comprehensive Kinder Transition Program
After School Care and Vacation Care on site
Extra curricular, dance troupe, chess club, sport, music, Spanish and Japanese
Check out what else we can offer your child.
We count ourselves lucky to be at the heart of a close community, who have supported the development of our extensive grounds. Have a look at our school tour.
WITH LIMITED VACANCIES AVAILABLE, CONTACT US TO ORGANISE A TOUR WITH OUR NEW PRINCIPAL, GILL AUSTIN ON 9456 2104 OR EMAIL US AT sbb@dbb.org.au.
Enrolment Information